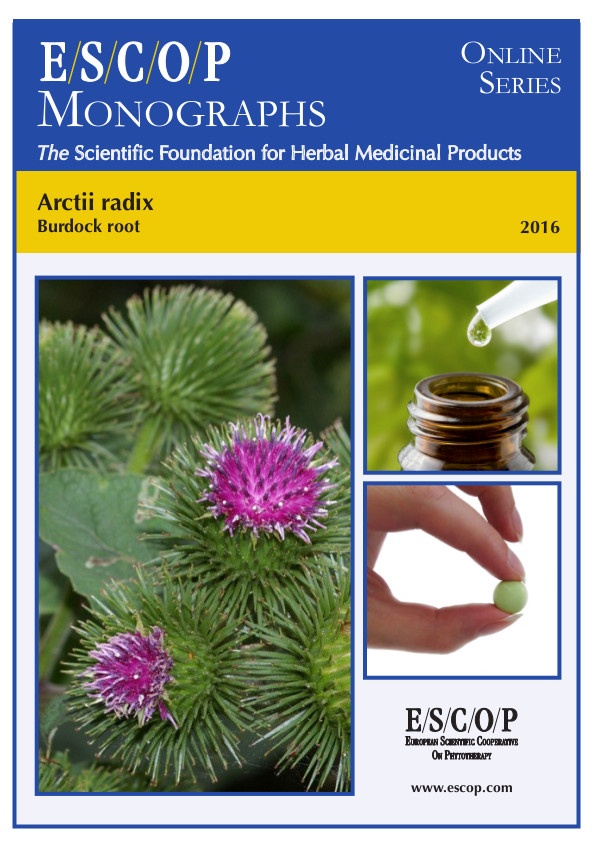 Arctii radix
Burdock Root
Arctium lappa L.
Published 2016
Price: €20
Format: PDF; Instant Download
SUMMARY:
The herbal monograph selects and summarises scientific studies and textbooks regarding efficacy, dosage and safety to support the therapeutic uses of burdock root.
This herbal drug by definition consists of dried, whole or cut roots of Arctium lappa L. (= A. major Gaertn.), A. minus (Hill) Bernh., A. tomentosum Mill. and hybrids or mixtures thereof.
Studies with its main characteristic constituents inulin, arctigenin and arctiin are included.
The therapeutic indications are seborrhoeic skin, eczema, furuncles, acne, psoriasis and as an adjuvant in minor urinary tract complaints, by increasing the amount of urine to achieve flushing of the urinary tract.
Administration of burdock root addresses posology; its duration of use; contra-indications; special warnings; special precautions for use; interactions with other medicinal products; other forms of interaction; in pregnancy and lactation; its effects on ability to drive; undesirable effects; overdose.
In vitro experiments with components of burdock root or extracts thereof demonstrate antibacterial, antiviral, antioxidant, anti-inflammatory, antiallergic, antimutagenic and antiproliferative activities. In vivo experiments in animals demonstrate antiviral, antioxidant, antimutagenic effects and diuretic, hepatoprotective properties and effects on glucose.
Pharmacokinetics distribution, metabolism and excretion of orally administered, isolated constituents arctigenin and arctiin, were assessed in animals.
Preclinical safety data were assessed in toxicity studies. Safety data were assessed in human studies. Few side effects were reported in humans. One case of anaphylactic reaction was observed after further ingestion of boiled burdock in a meal.
The selection of literature cited in the monograph is aimed at bringing together relevant information about the possible physiological roles of burdock root and its major constituents. Examples are given below.
KEYWORDS:
Arctium lappa L. (= Arctium major Gaertn.), Arctium minus (Hill) Bernh., Arctium tomentosum Mill. and hybrids
Arctii radix
Burdock root
Seborrhoeic skin; Eczema; Furuncles; Acne; Psoriasis; Urinary tract minor complaints.
EXAMPLE OF REFERENCES:
– Da Silva L, Allemand A, Mendes DAGB, dos Santos AC, André E, de Souza ML et al. Ethanolic extract of roots from Arctium lappa L. accelerates the healing of acetic acid-induced gastric ulcer in rats: involvement of the antioxidant system. Food Chem Toxicol 2013;51:179-87.
– Ferreira FM, Peixoto FP, Nunes E, Sena C, Seiça R, Santos SM. Inhibitory effect of Arctium minus on mitochondrial bioenergetics in diabetic Goto-Kakizaki rats. Sci Res Essays 2010;5(16):2136-42.
– Gao Q, Zhang Y, Wo S, Zuo Z. Hydrolysis is the dominating in vivo metabolism pathway for arctigenin : identification of novel metabolites of arctigenin by LC/MS/MS after oral administration in rats. Planta Med 2013;79:471-9. http://dx.doi.org/10.1055/s-0032-1328332.
– Lu LC, Zhou W, Li ZH, Yu CP et al. Effects of arctiin on streptozotocin-induced diabetic retinopathy in Sprague-Dawley rats. Planta Med 2012;78:1317-23. http://dx.doi.org/10.1055/s-0032-1314998.
– Nam C, Kim S, Sim Y, Chang I. Anti-acne effects of Oriental herb extracts: a novel screening method to select anti-acne agents. Skin Pharmacol Appl Skin Physiol 2003;16(2):84-90. http://dx.doi.org/10.1159/000069030