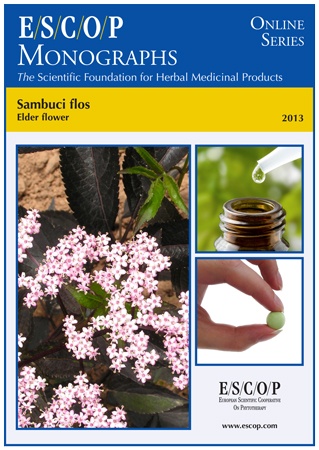 Sambuci Flos
Published 2013
Price:   €20
Format: PDF; Instant Download
SUMMARY:
The herbal monograph summarises scientific studies and textbooks regarding efficacy, dosage, indications and safety to support the long-standing use of elder flower. This herbal drug by definition consists of the dried flowers of Sambucus nigra L. Studies with its main characteristic constituents flavonoids, phenolic acids, essential oil and N-phenylpropenoyl-L-amino acid amides are included. The therapeutic indication is a diaphoretic in the treatment of common cold, fever and chills. Administration of elder flower addresses dosage; its duration of use; contra-indications; special warnings; special precautions for use; interactions with other medicinal products; other forms of interaction; in pregnancy and lactation; its effects on ability to drive; undesirable effects; overdose. In vitro experiments with elder flower demonstrate antioxidant, antiadhesive, anti-inflammatory and antidiabetic activities. In vivo experiments in animals demonstrate diuretic, anti-inflammatory and bronchial secretolytic properties of mullein flower. Preclinical safety was assessed in an acute toxicity study. There are no reports about undesirable effects. The selection of literature cited in the monograph, is aimed at compiling relevant information about the possible physiological roles of elder flower and its major constituents. Examples are given below.
KEYWORDS:
Sambucus nigra L.
Sambuci flos
Elder flower
Common cold; Fever; Chills; Diaphoretic;
REFERENCES:
– Beaux D, Fleurentin J, Mortier F. Effect of extracts of Orthosiphon stamineus Benth, Hieracium pilosella L., Sambucus nigra L. and Arctostaphylos uva-ursi (L.) Spreng. in rats. Phytother Res 1999;13:222-5. http://dx.doi.org/10.1002/(SICI)1099-1573(199905)13:3<222::AID-PTR447>3.0.CO;2-P
– Harokopakis E, Albzreh MH, Haase EM, Scannapieco FA, Hajishengallis G. Inhibition of proinflammatory activities of major periodontal pathogens by aqueous extracts from elder flower (Sambucus nigra). J Periodontol 2006;77:271-9. http://dx.doi.org/10.1902/jop.2006.050232
– Hensel A, Deters AM, Müller G, Stark T, Wittschier N, Hofmann T. Occurrence of N-phenylpropenoyl-L-amino acid amides in different herbal drugs and their influence on human keratinocytes, on human liver cells and on adhesion of Helicobacter pylori to the human stomach. Planta Med 2007;73:142-50. http://dx.doi.org/10.1055/s-2006-957079
– Gray AM, Abdel-Wahab YHA, Flatt PR. The traditional plant treatment, Sambucus nigra (elder), exhibits insulin-like and insulin-releasing actions in vitro. J Nutr 2000;130:15-20.
– Mascolo N, Autore G, Capasso F, Menghini A, Palmira FM. Biological screening of Italian medicinal plants for anti-inflammatory activity. Phytother Res 1987;1:28-31. http://dx.doi.org/10.1002/ptr.2650010107