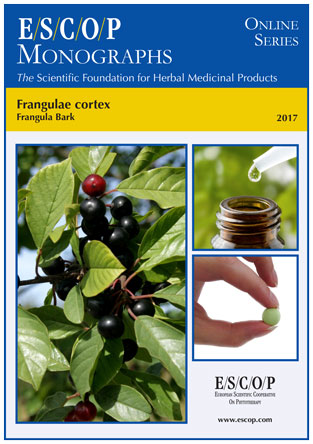 Frangulae cortex
Frangula Bark
Rhamnus frangula L.
Published 2017
Price: €20
Format: PDF; Instant Download
SUMMARY:
The herbal monograph selects and summarises scientific studies and textbooks regarding efficacy, dosage and safety to support the therapeutic uses of frangula bark.
This herbal drug by definition consists of the dried, whole or fragmented bark of the stems and branches of Rhamnus frangula L. and Frangula alnus Miller.
Studies with its main characteristic constituents frangula-emodin derivatives such as glucofrangulins A and B and frangulins A, B and C are included.
The therapeutic indication is short term treatment of occasional constipation.
Administration of frangula bark addresses posology; its duration of use; contra-indications; special warnings; special precautions for use; interactions with other medicinal products; other forms of interaction; in pregnancy and lactation; its effects on ability to drive; undesirable effects; overdose.
In vitro experiments with various constituents of frangula bark demonstrate platelet inhibiting and antiproliferative effects. In vivo experiments with frangula bark or its extracts in animals demonstrate laxative properties.
Controlled clinical studies with frangula bark demonstrated its use as a laxative in human patients with habitual constipation.
Pharmacokinetics of orally administered anthranoid glycosides of frangula bark, such as frangulins and glucofrangulins are assumed to act like sennosides in the intestine of animals and humans.
Preclinical safety data were assessed in toxicity studies.
Safety data were assessed in epidemiological studies.
The selection of literature cited in the monograph is aimed at bringing together relevant information about the possible physiological roles of frangula bark and its major constituents. Examples are given below.
KEYWORDS:
Rhamnus frangula L.; Frangula alnus Miller
Frangulae cortex
Frangula bark
Constipation, occasional short term treatment
EXAMPLE OF REFERENCES:
– Cresseri A, Peruto I, Longo R. Biologische Wertbestimmung der laxativen Wirkung der Polyhydroxy-Anthrachinone aus der Rinde von Rhamnus frangula L. Arch Pharm (Berlin) 1966;299:615-8. http://dx.doi.org/10.1002/ardp.19662990710
– de Witte P. Metabolism and pharmacokinetics of anthranoids. Pharmacology 1993; 47 (Suppl.1): 86-97.
– Faber P, Strenge-Hesse A. Relevance of rhein excretion into breast milk. Pharmacology 1988; 36 (Suppl 1): 212-20. http://dx.doi.org/10.1159/000138442
– Fairbairn JW, Moss MJR. The relative purgative activities of 1,8-dihydroxyanthracene derivatives. J Pharm Pharmacol 1970; 22: 584-93.
– Wei BL, Lu CM, Tsao LT, Wang JP, Lin CN. In vitro anti-inflammatory effect of quercetin 3-O-methyl ether and other constituents from Rhamnus species. Planta Med 2001; 67: 745-7.