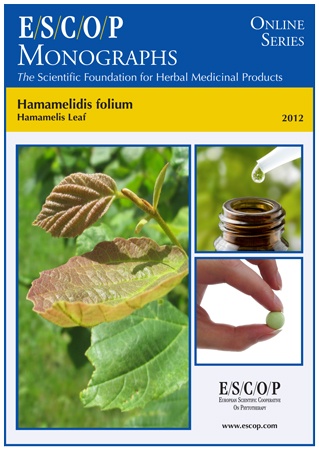 Hamamelidis folium
Published 2012
Price:   €20
Format: PDF; Instant Download
SUMMARY:
The herbal monograph selects and summarises scientific studies and textbooks regarding efficacy, dosage and safety to support the therapeutic uses of hamamelis leaf. This herbal drug by definition consists of the whole or cut, dried leaf of Hamamelis virginiana L. Studies with its main characteristic constituents tannins, including condensed tannins and hydrolysable gallotannins, flavonoids are included.The therapeutic indication is symptomatic treatment of complaints related to varicose veins, such as painful and heavy legs and of haemorrhoids. Administration of hamamelis leaf addresses posology; its duration of use; contra-indications; special warnings; special precautions for use; interactions with other medicinal products; other forms of interaction; in pregnancy and lactation; its effects on ability to drive;  undesirable effects; overdose. In vitro experiments with hamamelis leaf demonstrate antibacterial and antioxidant activities. In vivo experiments with hamamelis leaf extracts in animals demonstrate anti-inflammatory and venotonic properties. A pharmacological study in humans concerns its vasoconstrictor activity. A clinical study with hamamelis leaf extract, demonstrated its use as a topical agent and improved the symptoms in patients with neurodermatitis. Preclinical safety data were assessed in a toxicity study. The selection of literature cited in the monograph is aimed at bringing together relevant information about the possible physiological roles of hamamelis leaf and its major constituents. Examples are given below.
KEYWORDS:
Hamamelis virginiana L.
Hamamelidis folium
Hamamelis Leaf; Witch hazel leaf
Varicose veins; Haemorrhoids
REFERENCES:
– Bernard P, Balansard P, Balansard G, Bovis A. Valeur pharmacodynamique toniveineuse des préparations galéniques à base de feuilles d'hamamélis. J Pharm Belg 1972;27:505-12.
– Diemunsch A-M, Mathis C. Effet vasoconstricteur de l'hamamélis en application externe. STP Pharma 1987;3:111-4.
– Duwiejua M, Zeitlin IJ, Waterman PG, Gray AI. Anti-inflammatory activity of Polygonum bistorta, Guaiacum officinale and Hamamelis virginiana in rats. J Pharm Pharmacol 1994;46:286-90.
– Engel R, Gutmann M, Hartisch C, Kolodziej H, Nahrstedt A. Study on the composition of the volatile fraction of Hamamelis virginiana. Planta Med 1998;64:251-8.
– Wang H, Provan GJ, Helliweill K. Determination of hamamelitannin, catechins and gallic acid in witch hazel bark, twig and leaf by HPLC. J Pharm Biomed Anal 2003;33:539-44.