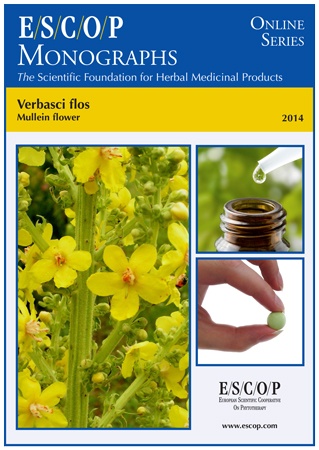 Verbasci flos
Published 2014
Price:   €20
Format: PDF; Instant Download
SUMMARY:
The herbal monograph summarises scientific studies and textbooks regarding efficacy, dosage, indications and safety to support the long-standing use of mullein flower.
The botanical definition of the herbal drug is the dried flower, reduced to the corolla and the androecium of Verbascum thapsus L., V. densiflorum; [syn. V. thapsiforme  Schrad] and V. phlomoides L.
Studies with its main characteristic constituents:  flavonoids, iridoid and phenyl-ethanoid glycosides, saponins and polysaccharides are included.
The therapeutic indication is common cold with cough, sore throat, as a demulcent and mild expectorant.
Administration of mullein flower addresses: dosage; its duration of use; contra-indications; special warnings; special precautions for use; interactions with other medicinal products; other forms of interaction; in pregnancy and lactation; its effects on ability to drive; undesirable effects; overdose.
In vitro experiments with mullein flower extracts or its constituents demonstrate antiviral, antibacterial, antioxidant, radical scavenging, cytotoxic and anti-inflammatory activities.
In vivo experiments with mullein flower extracts in animals indicate anti-inflammatory, analgesic and anti-nociceptive properties.
The selection of literature cited in the monograph is aimed at bringing together relevant information about the possible physiological roles of mullein flower and its major constituents. Examples are given below.
KEYWORDS:
Verbascum thapsus L.; Verbascum densiflorum Bert.; Verbascum thapsiforme Schrad, Verbascum phlomoides L.
Verbasci flos
Mullein flower
Common cold with cough, sore throat; Expectorant;
EXAMPLE OF REFERENCES:
– Hein von  S. Untersuchungen über die Flavonoide und Saponine in Verbascum-Arten, insbesondere in den Blüten von V. phlomoides. Planta med 1959;7:185-205.
– Kupeli E, Tatli II, Akdemir ZS, Yesilada E Bioassay-guided isolation of anti-inflammatory and anti-nociceptive glycoterpenoids from the flowers of Verbascum lasianthum Boiss. ex Bentham. J Ethnopharmacol 2007;110:444-50. http://dx.doi.org/10.1016/j.jep.2006.10.004
– Slagowska A, Zgorniak-Nowosielska I, Grzybek J. Inhibition of herpes simplex virus replication by Flos verbasci infusion. Polish J Pharmacol Pharmacy 1987;39:55-61.
– Speranza L, Franceschelli S, Pesce M, Reale M, Menghini L, Vinciguerra I, De Lutiis MA, Felaco M, Grilli A. Anti-inflammatory effects in THP-1 cells treated with verbascoside. Phytother Res 2010; 24:1398-404. http://dx.doi.org/10.1002/ptr.3173
– Turker AU, Camper ND. Biological activity of common mullein, a medicinal plant. J Ethnopharmacol 2002;82:117-25. http://dx.doi.org/10.1016/S0378-8741(02)00186-1