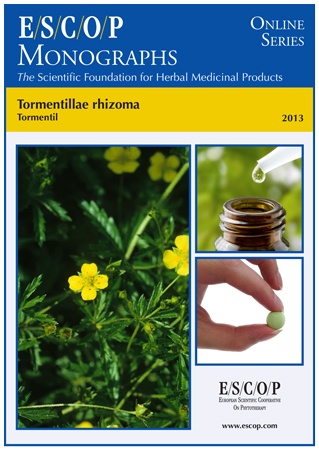 Tormentillae rhizoma
Published 2013
Price:   €20
Format: PDF; Instant Download
SUMMARY:
The herbal monograph selects and summarises scientific studies and textbooks regarding  efficacy, dosage and safety to support the therapeutic uses of tormentil. This herbal drug by definition consists of the whole or cut, dried rhizome, freed from the roots, of Potentilla erecta (L.) Raeusch., P. tormentilla Stokes). Studies with its main characteristic constituents tannins, phenolic acids and triterpene saponins are included. The therapeutic indications are non-specific, acute diarrhea, adjuvant treatment of acute and subacute enteritis and colitis and slight irritations of the mucosa of mouth and throat. Administration of tormentil addresses dosage, its duration of use; contra-indications; special warnings; special precautions for use; interactions with other medicinal products; other forms of interaction; in pregnancy and lactation; its effects on ability to drive; undesirable effects; overdose.  In vitro experiments with tormentil extracts demonstrate astringent, antibacterial and antioxidant properties. In vivo experiments with tormentil constituents indicate hypoglycaemic and antitumour properties. Controlled human clinical studies with a tormentil extract demonstrated its use in patients with rotavirus diarrhea. Preclinical safety data for tormentil were assessed in acute toxicity studies. Safety data were assessed in human studies, where no severe clinical side effects were observed. The selection of literature cited in the monograph is aimed at bringing together relevant information about the possible physiological roles of tormentil and its major constituents. Examples are given below.
KEYWORDS:
Potentilla erecta (L.) RAEUSCH.; Potentilla tormentilla STOKES.
Tormentillae rhizome
Tormentil
Diarrhoea acute; Enteritis; Colitis; Irritation of mouth mucosa
REFERENCES:
– Ahn B-Z. Catechin-trimeren aus der Eichenrinde und der Tormentilla-Wurzel. Dtsch Apoth Ztg 1973;113:1466.
– Bilia AR, Palme E, Catalano S, Flamini G, Morelli I. New triterpenoid saponins from the roots of Potentilla tormentilla. J Nat Prod 1994;57:333-8.
– Bos MA, Vennat B, Meunier MT, Pouget MP, Pourrat A, Fialip J. Procyanidins from tormentil: antioxidant properties towards lipo-peroxidation and anti-elastase activity. Bio Pharm Bull 1996;19:146-8.
– Geiger C, Rimpler H. Ellagitannins from Tormentillae Rhizoma and Alchemillae Herba. Planta Med 1990;56:585-6.
– Pourrat A, Coulet M, Pourrat H. Bacteriostatic and agglutinating activities of tannic complexes extracted from tormentil, strawberry-plant and the wild rose. Ann Pharm Fr 1963;21:55-8.