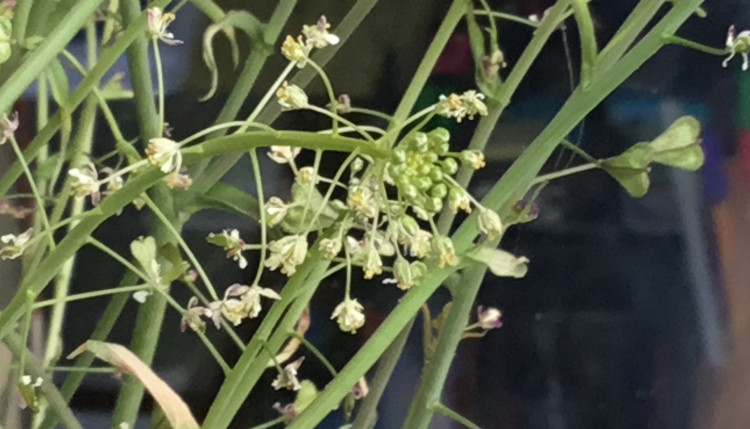 Introduction: As heavy menstrual bleeding (HMB) can cause low quality of life and iron deficiency anemia in women, the effects of hydroalcoholic extracts of Capsella bursa-pastoris, known as shepherd's purse, were investigated in patients with HMB. Traditionally, shepherd's purse has been used to treat bleeding of various causes, such as uterine bleeding and postpartum hemorrhage. It appears to act as an astringent.
Study design and treatment: a triple-blinded, randomized, placebo-controlled clinical trial was conducted in gynecology clinics in Iran. 42 patients in the shepherd's purse group received 2 capsules / day, each containing 320 mg hydroethanolic (96%; DER= 7.8 :1) dry extract. 42 patients in the placebo group received 2 capsules/day including starch. Both groups also received 6 mefenamic acid capsules/day (250mg). Mefenamic acid is an NSAID-drug and can be effective in reducing cramps during menstruation. However, it has various gastrointestinal side effects. It was given to both groups, mainly for ethical reasons. The volume of menstrual bleeding was assessed and documented in dairies, before and during the intervention, according to written instructions and by using commercial wing-type sanitary napkins. Participant satisfaction was also documented. Treatment was administered during the menstruation periods (up to 7 days) of two consecutive cycles.
Results: A significant decrease in the volume of menstrual bleeding was observed in both groups. However, the reduction in the volume of blood loss was significantly higher in the Capsella bursa-pastoris group, at the end of the 3rd month, when compared to the control group (p < 0,001). As the occurrence of gastrointestinal disturbances, headache and dizziness, were similar in both groups, these were ascribed to mefenamic acid and not to shepherd's purse.
Conclusion: The results of this study indicate that the extract of Capsella bursa-pastoris reduces the volume of menstrual bleeding. It is suggested that additional studies of similar methodology and a larger cohort, could be conducted, to confirm these findings.
Keywords:
Capsella bursa-pastoris
Heavy menstrual bleeding
Mefenamic acid
Author: Marijke Frater, Schweizerische Medizinische Gesellschaft für Phytotherapie
Reference: Naafe M, Kariman N, Keshavarz Z, Khademi N, Mojab F, Mohammadbeigi A. The effect of hydroalcoholic extracts of Capsella bursa-pastoris on heavy menstrual bleeding: a randomized clinical trial. J Altern Complement Med 2018;24(7):694-700. DOI: 10.1089/acm.2017.0267.