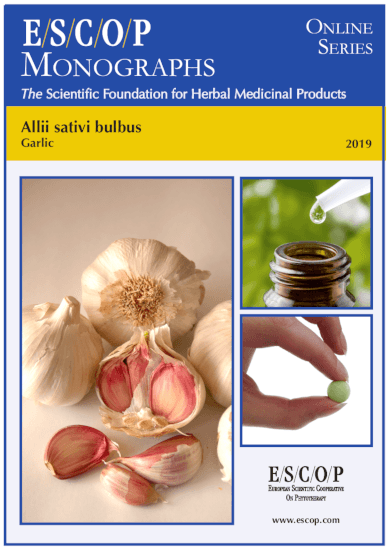 Allii sativi bulbus
Garlic
Allium sativum L.
Published 2019
Format: PDF. 29 pages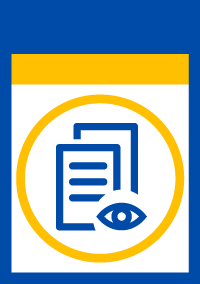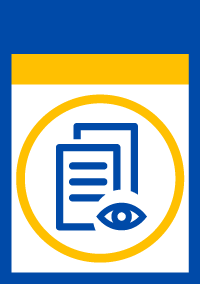 Online viewing (for only €30 per year, you can view online all the monographs)
SUMMARY
The herbal monograph selects and summarises scientific studies and textbooks regarding efficacy, dosage and safety to support the therapeutic uses of garlic. This herbal drug by definition consists of the bulb of Allium sativum L., with the outer corneous layer removed, cut, freeze-dried or dried at less than 65ºC and powdered. It contains not less than 0.45 per cent of allicin.
Studies with its main characteristic constituents alliin, the main sulphur-containing amino acid, its conversion to allicin, S-methyl-L-cysteine sulphoxide and S-allyl-cysteine are included.
The therapeutic indications are prophylaxis of atherosclerosis; treatment of elevated blood lipid levels if insufficiently controlled by diet; supportive treatment of hypertension; reducing severity of upper respiratory tract infections and catarrhal conditions.
Administration of garlic addresses posology; its duration of use; contra-indications; special warnings; special precautions for use; interactions with other medicinal products; other forms of interaction; in pregnancy and lactation; its effects on ability to drive; undesirable effects; overdose.
In vitro experiments with garlic showed anti-atherosclerotic, lipid-lowering and antioxidant effects, as well as beneficial effects on vascular resistance, fibrinolysis and platelet aggregation. Antibacterial, antimycotic, antiviral, neuroprotective, antiparasitic and antitumour effects were also noted. In vivo experiments with garlic or its extracts demonstrated lipid-lowering, anti-atherogenic, antihypertensive, antioxidant and cardioprotective, as well as antiviral properties.
Pharmacological studies in humans concerned rheological, anti-atherosclerotic, lipid-lowering and antioxidant activities.
Regarding interactions with other medicinal products in humans, warfarin, fluindione, saquinavir and ritonavir, human studies confirmed most findings in rats.
Controlled clinical studies investigating effects on blood pressure were analysed in systematic reviews and meta-analyses. Results revealed that garlic was associated with reductions in blood pressure in patients with hypertension. A recent meta-analysis including 20 randomized, controlled trials showed a significant decrease in systolic as well as diastolic blood pressure compared with placebo. The summary of a systematic review of 45 randomized trials showed beneficial effects of garlic on several other cardiovascular-related factors, e.g. in patients with peripheral arterial occlusive disease, coronary arterial disease and hyper-cholesterolaemia. Lipid-lowering effects of garlic on total serum cholesterol were assessed in 7 meta-analyses, one of which evaluated 26 randomized double-blind, placebo controlled clinical trials. When placebo-controlled studies were conducted in combination with defined diets in patients with hyperlipidaemia, arterial occlusive disease, mild hypercholesterolaemia, mild hypertension and peripheral coronary heart disease, significant reductions in total cholesterol were found. With regard to prophylaxis of atherosclerosis, a 4 year study showed significant inhibition of the increase in plaque volume.
Pharmacokinetic properties were studied in various animal species, which assessed absorption, excretion and bioavailability of individual compounds. Preclinical safety data were assessed in toxicity studies. No mutagenicity was evident in the Ames test. Safety data originated from systematic reviews of human studies.
The selection of literature cited in the monograph is aimed at bringing together relevant information about the possible physiological roles of garlic and its major constituents.
KEYWORDS
Allii sativi bulbus
Garlic
Allium sativum L.
Prophylaxis of atherosclerosis
Elevated blood lipid levels
Supportive treatment of hypertension
Upper respiratory tract infections and catarrh