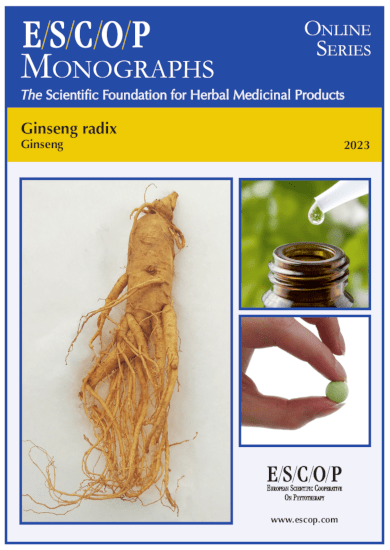 Ginseng radix
Ginseng
Panax ginseng C. A. Mey
Published 2023
Format: PDF, 34 pages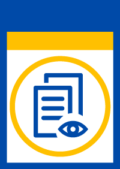 Online viewing (for only €30 per year, you can view online all the monographs; free for members of societies belonging to ESCOP)
Summary
The herbal monograph selects and summarises scientific studies and textbooks regarding efficacy, dosage and safety to support the therapeutic uses of ginseng.
This herbal drug, by definition, consists of the whole or cut dried root, designated white ginseng; treated with steam and then dried, designated red ginseng, of Panax ginseng C. A. Mey.
Studies with its main characteristic constituents, triterpene saponins, mainly tetracyclic dammarane-type protopanaxadiol saponins (e.g., ginsenosides Ra1, Ra2 and Ra3; ginsenosides Rb1, Rb2 and Rb3; ginsenosides Rc and Rd; and malonyl-ginsenosides Rb1, Rb2, Rc and Rd) as well as protopanaxatriol saponins (e.g. ginsenosides Re and Rf; 20-gluco-ginsenoside Rf; ginsenosides Rg1, Rg2 and Rh1) and pentacyclic oleanane-type saponins (ginsenoside Ro) are included.
The therapeutic indications are decreased mental and physical capacities such as weakness, exhaustion, tiredness, and loss of concentration, as well as during convalescence.
Administration of ginseng addresses posology; its duration of use; contra-indications; special warnings; special precautions for use; interactions with other medicinal products; other forms of interaction; in pregnancy and lactation; its effects on ability to drive; undesirable effects and overdose.
In vitro and ex vivo experiments with ginseng demonstrated effects on cell proliferation and angiogenesis as well as immunomodulatory, neuroprotective and antioxidant activities.
In vivo experiments with ginseng or its extracts demonstrated immunomodulatory, antidiabetic, hormonal, anti-tumour, anti-ulcer, neuroprotective, antiviral, cardiovascular, anti-allergic and hepatoprotective properties and effects on performance.
Pharmacological studies in humans concern effects on exercise and mental performance, cognition and stress response as well as immunomodulatory and antioxidant properties.
Controlled clinical studies with ginseng demonstrated effects on fatigue, quality of life, cognitive and psychological functions, on respiratory disease, dry eye syndrome, metabolic syndrome and erectile function.
Pharmacokinetics of different ginsenosides (e.g., Rg1, Rb1, Rb2, compound K) were assessed in animals and humans.
Preclinical safety data for ginseng were assessed in toxicity studies. Safety data were assessed in human studies.
The selection of literature cited in the monograph is aimed at bringing together relevant information about the possible physiological roles of yarrow and its major constituents.
Keywords
Ginseng radix
Ginseng
Panax ginseng C. A. Mey
CNS disorders
Mental or physical exhaustion
Fatigue
Decreased mental and physical capacities
Weakness
Tiredness
Loss of concentration
Convalescence
Reference: European Scientific Cooperative on Phytotherapy. ESCOP monographs The Scientific Foundation for Herbal Medicinal Products. Online series. Ginseng radix (Ginseng). Exeter: ESCOP; 2023.