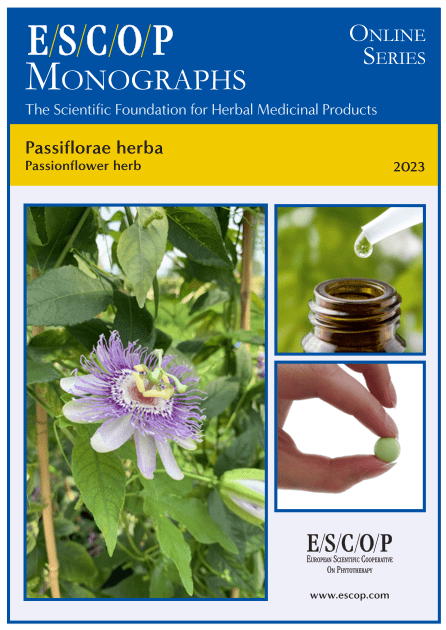 Passiflorae herba
Passionflower herb
Passiflora incarnata L.
Published 2023
Format: PDF, 22 pages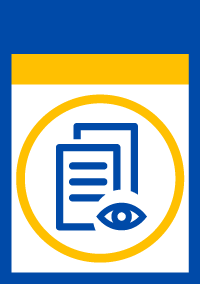 Online viewing (for only €30 per year, you can view online all the monographs; free for members of societies belonging to ESCOP)
Summary
The herbal monograph selects and summarizes scientific studies and textbooks regarding efficacy, dosage and safety to support the therapeutic uses of passionflower herb.
This herbal drug, by definition, consists of Passiflora incarnata L.
Studies with its main characteristic constituents glycosylflavonoids of apigenin and luteolin such as isovitexin, isoorientin and their 2″-beta-D-glucosides, schaftoside, isoschaftoside, vicenin-2 and swertisin as well as amino acids with GABA as dominant component are included.
The therapeutic indications are tension, restlessness and irritability with difficulty in falling asleep.
Administration of passionflower herb addresses posology; its duration of use and undesirable effects, such as allergic reactions.
In vitro experiments with passionflower herb or its extracts demonstrated effects on receptor binding, antioxidant and antibacterial activities as well as influences on the circadian rhythm of a mouse fibroblast cell line. In vivo experiments with passionflower herb or its extracts demonstrated sedative and anxiolytic effects in mice, rats and weaned piglets, effects on withdrawal symptoms in rats as well as antitussive, anticonvulsive, neuroprotective, anti-inflammatory, anti-nociceptive and anti-metabolic effects in mice, rats and guinea pigs.
Pharmacological studies in humans concern sedation and sleep quality.
Controlled clinical studies with passionflower herb demonstrated its use to alleviate symptoms of neuropsychiatric origin in patients.
Pharmacokinetics: In in vitro studies the metabolism of several flavonoids was studied.
Preclinical safety data were assessed in single and repeated dose toxicity studies as well as in an investigation on mutagenicity.
Clinical safety data were recorded in several studies.
The selection of literature cited in the monograph is aimed at bringing together relevant information about the possible physiological roles of passionflower herb and its major constituents.
Keywords
Passiflorae herba
Passionflower herb
Passiflora incarnata L.
CNS disorders
Tenseness
Restlessness
Irritability
Difficulty in falling asleep
Reference: European Scientific Cooperative on Phytotherapy. ESCOP monographs The Scientific Foundation for Herbal Medicinal Products. Online series. Passiflorae herba (Passionflower herb). Exeter: ESCOP; 2023.