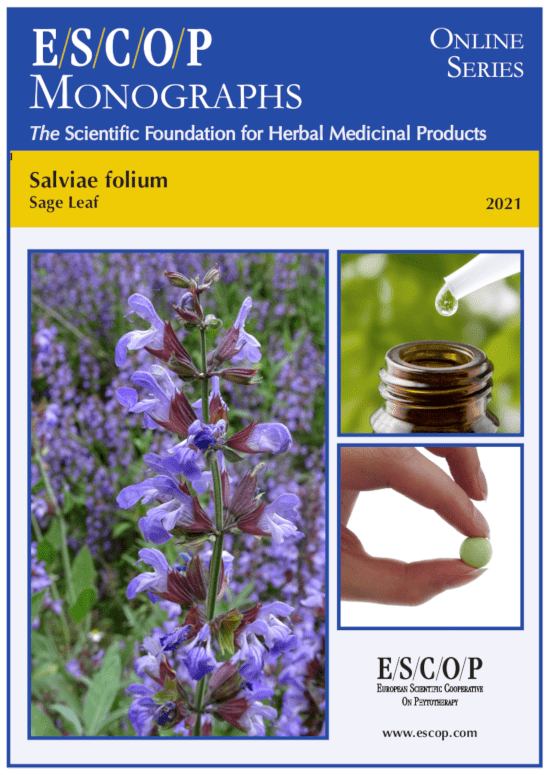 Salviae folium
Sage leaf
Salvia officinalis L.
Published: 2021
Format: PDF, 23 pages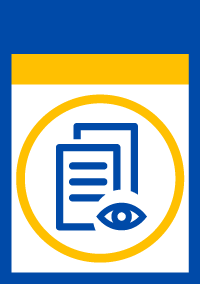 Online viewing (for only €30 per year, you can view online all the monographs; free for members of societies belonging to ESCOP)
Download
SUMMARY
The herbal monograph selects and summarises scientific studies and textbooks regarding efficacy, dosage and safety to support the therapeutic uses of sage leaf.
This herbal drug by definition consists of the dried leaves of Salvia officinalis L.
Studies with its main characteristic constituents, the essential oil; α-and β-thujone, carnosol, carnosic acid, oleanolic acid, α-linolic acid and 12-O-methyl carnosic acid, phenolic diterpenes, are included.
The therapeutic indications are dyspeptic complaints such as heartburn and bloating; hyperhidrosis; hot flushes; hyperglycaemia and hyperlipidaemia; inflammations of the mouth or throat including stomatitis, gingivitis and pharyngitis.
Administration of sage leaf addresses posology; its duration of use; contra-indications; special warnings; special precautions for use; interactions with other medicinal products; other forms of interaction; in pregnancy and lactation; its effects on ability to drive; undesirable effects; overdose.
In vitro experiments with sage leaf, its extracts and isolated constituents demonstrated antimicrobial, antioxidant, anti-inflammatory, antigenotoxic, hypoglycaemic, cytoprotective and angiogenesis-inhibiting activities. In vivo experiments with sage leaf, its extracts and the essential oil demonstrated antinociceptive, anti-inflammatory, hypoglycaemic, lipid-lowering, gastroprotective, memory-improving, antimutagenic, wound healing, antioxidative, anti-ulcerogenic and larvicidal properties.
Pharmacological studies in female volunteers and healthy older adults showed improved lipid profiles, antioxidant defences and effects on memory.
Controlled clinical studies with sage leaf demonstrated antimicrobial and antiphlogistic effects in patients with aphthous ulcers, gingivitis or pharyngitis and in patients with primary hyperlipidaemia or type-2-diabetes showed hypoglycaemic and lipid-lowering effects. Pharmacokinetics of the sage leaf constituent α-thujone were assessed in animals. Its metabolism and absorption after oral administration were investigated.
Preclinical safety data of sage leaf tincture, the essential oil and α-and β-thujone were assessed in different toxicity studies.
Safety data were assessed in human studies and showed only mild adverse effects with no effects on hepatic or renal function. Two cases of reversible intoxication due to accidental topical and oral use of sage oil were separately reported.
The selection of literature cited in the monograph is aimed at bringing together relevant information about the possible physiological roles of sage leaf and its major constituents.
KEYWORDS
Salviae folium
Sage leaf
Salvia officinalis L.
Heartburn
Hyperhidrosis
Hot flushes
Hyperglycaemia
Hyperlipidaemia
Stomatitis
Gingivitis
Pharyngitis
Reference: European Scientific Cooperative on Phytotherapy. ESCOP monographs The Scientific Foundation for Herbal Medicinal Products. Online series. Salviae folium (Sage Leaf). Exeter: ESCOP; 2021.