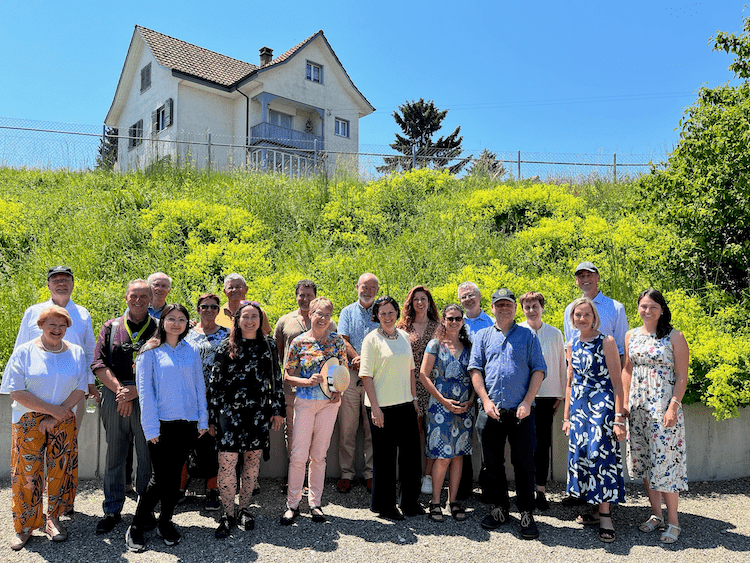 On June 9th and 10th 2023, the 136th meeting of the ESCOP Scientific Committee took place at the headquarters of the company Max Zeller Söhne AG, in Romanshorn (Switzerland). It was the fifth in-person meeting after the pandemic, after those held in October 2021 in Nesslau (Switzerland), in May 2022 in Laufen (Switzerland) and in October 2022 and February 2023 in Utrecht (The Netherlands).

Apart from the busy schedule of working on monographs such as Bacopa monieri, Rosmarini herba, Centella asiatica, Piper metistici radix and Taraxacum radix, we visited the Vitaplant facilities, with a guided tour of its herb garden.
On the shores of Lake Constance, Prof. Dr. Jürgen Drewe, supervising editor of ESCOP and former member of the scientific committee (e.g. project leader of the herba de Hyperici monograph), who lives in the region, joined us to a wonderful dinner on a warm summer night.
Prof. Veronika Butterweck gave the ESCOP Scientific Committee on Saturday morning a presentation on evidence-based product development and scientific and clinical work.
Many thanks to Dr. Malena Rabenau, Dr. Alexander Schenk, Prof. Dr. Veronika Butterweck and Dr. Georg Boonen, CEO of Zeller, for their great hospitality in hosting this event.