📌 Notice: The books are actually out of print and only very few copies remain. If you are interested in buying them, contact secretariat @ escop.com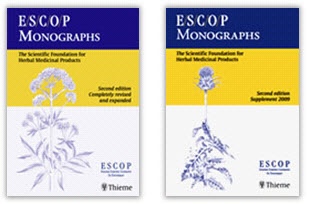 The two books that make up the Second Edition of the ESCOP monographs mark a new authority on herbal medicine. Following the indispensable pioneering work of the Commission E in Germany, ESCOP has taken the lead role across Europe over the past decade in reviewing the therapeutic uses of herbal medicinal products. This is now recognized by the European Medicines Evaluation Agency, which formally receives ESCOP monographs as a basis for core dossiers on herbal medicines. Initial funding for the enterprise was provided by the European Commission.
ESCOP, representing national associations of herbal medicine or phytotherapy across Europe, is uniquely placed to provide an international consensus. Preparation of the monographs by the ESCOP Scientific Committee has involved delegates from 15 countries with the assistance of numerous external experts on herbal medicine and an eminent Board of Supervising Editors.
60 ESCOP monographs were published during the late 1990s. All were updated and expanded for the first volume of the second edition, published in 2003 includes a further 20 monographs. The text constitutes an up-to-date review of scientific information on the therapeutic uses of herbal medicines, including indications, dosage, contra-indications, interactions and undesirable effects, together with summaries of pharmacological, clinical and toxicological data. It is extensively referenced to scientific literature – almost 5000 full citations were reviewed to produce the book.
The Supplement adds 27 new monographs and updates another 8 of the 2003 monographs. Over 1800 new citations are reviewed.
Immediate past ESCOP Chairman Professor Fritz H. Kemper has written: ESCOP is an organisation of volunteers. All members of the Scientific Committee, guest experts, the panel of Supervising Editors, and Board of ESCOP give their time freely to their work in pursuit of the highest standards for herbal medicinal products. This book really is a labour of love. We at the Board of ESCOP are very proud of the many who have contributed to these monographs and are most grateful to them.
The ESCOP monographs are an invaluable resource for health professionals, regulators, manufacturers and many others. They provide the evidence base for the clinical use of herbal medicinal products.
List of monographs published in books


2003
European Scientific Cooperative on Phytotherapy. ESCOP monographs The Scientific Foundation for Herbal Medicinal Products. 2nd edition. Exeter (UK): ESCOP, Stuttgart: Georg Thieme Verlag, New York: Thieme New York. 2003.

ABSINTHII HERBA – Wormwood
AGNI CASTI FRUCTUS – Agnus Castus
ALLII SATIVI BULBUS – Garlic
ALOE CAPENSIS – Cape Aloes
ALTHAEAE RADIX – Marshmallow Root
ANISI FRUCTUS – Aniseed
ARNICAE FLOS – Arnica Flower
BETULAE FOLIUM – Birch Leaf
BOLDI FOLIUM – Boldo Leaf
CALENDULAE FLOS – Calendula Flower
CARVI FRUCTUS – Caraway Fruit
CENTAURII HERBA – Centaury
CHELIDONII HERBA – Greater Celandine
CIMICIFUGAE RHIZOMA – Black Cohosh
CINNAMOMI CORTEX – Cinnamon
CRATAEGI FOLIUM CUM FLORE – Hawthorn Leaf and Flower
CURCUMAE LONGAE RHIZOMA – Turmeric
CYNARAE FOLIUM – Artichoke Leaf
ECHINACEAE PALLIDAE RADIX – Pale Coneflower Root
ECHINACEAE PURPUREAE HERBA – Purple Coneflower Herb
ECHINACEAE PURPUREAE RADIX – Purple Coneflower Root
ELEUTHEROCOCCI RADIX – Eleutherococcus
EUCALYPTI AETHEROLEUM – Eucalyptus Oil
FILIPENDULAE ULMARIAE HERBA – Meadowsweet
FOENICULI FRUCTUS – Fennel
FRANGULAE CORTEX – Frangula Bark
GENTIANAE RADIX – Gentian Root
GINKGO FOLIUM – Ginkgo Leaf
GINSENG RADIX – Ginseng
HAMAMELIDIS AQUA – Hamamelis Water
HAMAMELIDIS CORTEX – Hamamelis Bark
HAMAMELIDIS FOLIUM – Hamamelis Leaf
HARPAGOPHYTI RADIX – Devils Claw Root
HEDERAE HELICIS FOLIUM – Ivy Leaf
HIPPOCASTANI SEMEN – Horse-chestnut Seed
HYPERICI HERBA – St. John's Wort
JUNIPERI PSEUDO-FRUCTUS – Juniper
LICHEN ISLANDICUS – Iceland Moss
LINI SEMEN – Linseed
LIQUIRITIAE RADIX – Liquorice Root
LUPULI FLOS – Hop Strobile
MATRICARIAE FLOS – Matricaria Flower
MELILOTI HERBA – Melilot
MELISSAE FOLIUM – Melissa Leaf
MENTHAE PIPERITAE AETHEROLEUM – Peppermint Oil
MENTHAE PIPERITAE FOLIUM – Peppermint Leaf
MYRRHA – Myrrh
MYRTILLI FRUCTUS – Bilberry Fruit
ONONIDIS RADIX – Restharrow Root
ORTHOSIPHONIS FOLIUM – Java Tea
PASSIFLORAE HERBA – Passion Flower
PIPERIS METHYSTICI RHIZOMA – Kava-Kava
PLANTAGINIS LANCEOLATAE FOLIUM/HERBA – Ribwort Plantain Leaf/Herb
PLANTAGINIS OVATAE SEMEN – Ispaghula Seed
PLANTAGINIS OVATAE TESTA – Ispaghula Husk
POLYGALAE RADIX – Senega Root
PRIMULAE RADIX – Primula Root
PSYLLII SEMEN – Psyllium Seed
RHAMNI PURSHIANI CORTEX – Cascara
RHEI RADIX – Rhubarb
RIBIS NIGRI FOLIUM – Blackcurrant Leaf
ROSMARINI FOLIUM – Rosemary Leaf
RUSCI RHIZOMA – Butcher's Broom
SALICIS CORTEX – Willow Bark
SALVIAE FOLIUM – Sage Leaf
SENNAE FOLIUM – Senna Leaf
SENNAE FRUCTUS ACUTIFOLIAE – Alexandrian Senna Pods
SENNAE FRUCTUS ANGUSTIFOLIAE – Tinnevelly Senna Pods
SERENOAE REPENTIS FRUCTUS (SABAL FRUCTUS) – Saw Palmetto Fruit
SOLIDAGINIS VIRGAUREAE HERBA – European Golden Rod
TANACETI PARTHENII HERBA – Feverfew
TARAXACI FOLIUM – Dandelion Leaf
TARAXACI RADIX – Dandelion Root
THYMI HERBA – Thyme
TRIGONELLAE FOENUGRAECI SEMEN – Fenugreek
URTICAE FOLIUM/HERBA – Nettle Leaf/Herb
URTICAE RADIX – Nettle Root
UVAE URSI FOLIUM – Bearberry Leaf
VALERIANAE RADIX – Valerian Root
ZINGIBERIS RHIZOMA – Ginger
 
2009
European Scientific Cooperative on Phytotherapy. ESCOP monographs The Scientific Foundation for Herbal Medicinal Products. Suppl. 2nd edition. Exeter (UK): ESCOP, Stuttgart: Georg Thieme Verlag, New York: Thieme New York. 2009.

AGRIMONIAE HERBA – Agrimony
ALOE BARBADENSIS – Barbados Aloes
ANGELICAE RADIX – Angelica Root
BALLOTAE NIGRAE HERBA – Black Horehound
CAPSICI FRUCTUS – Capsicum
CENTELLAE ASIATICAE HERBA – Centella
CRATAEGI FRUCTUS – Hawthorn Berries
CUCURBITAE SEMEN – Pumpkin Seed
CURCUMAE XANTHORRHIZAE RHIZOMA – Javanese Turmeric
CYNARAE FOLIUM – Artichoke Leaf
ECHINACEAE ANGUSTIFOLIAE RADIX – Narrow-leaved Coneflower Root
ECHINACEAE PALLIDAE RADIX – Pale Coneflower Root
ECHINACEAE PURPUREAE HERBA – Purple Coneflower Herb
ECHINACEAE PURPUREAE RADIX – Purple Coneflower Root
ELEUTHEROCOCCI RADIX – Eleutherococcus Root
FUMARIAE HERBA – Fumitory
GRAMINIS RHIZOMA – Couch Grass Rhizome
GRINDELIAE HERBA – Grindelia
HARPAGOPHYTI RADIX – Devil's Claw Root
LAVANDULAE FLOS/AETHEROLEUM – Lavender Flower/Oil
MALVAE FLOS – Mallow Flower
MELALEUCAE AETHEROLEUM – Tea Tree Oil
MILLEFOLII HERBA – Yarrow
OLIBANUM INDICUM – Indian Frankincense
PAULLINIAE SEMEN – Guarana Seed
PRUNI AFRICANAE CORTEX – Pygeum Bark
RATANHIAE RADIX – Rhatany Root
ROSAE PSEUDO-FRUCTUS – Dog Rose Hip
SILYBI MARIANI FRUCTUS – Milk Thistle Fruit
SYMPHYTI RADIX – Comfrey Root
VACCINII MACROCARPI FRUCTUS – Cranberry
VALERIANAE RADIX – Valerian Root
VIOLAE HERBA CUM FLORE – Wild Pansy
VITIS VINIFERAE FOLIUM – Red Vine Leaf
ZINGIBERIS RHIZOMA – Ginger